Drive thru testing available at Conway Regional's After Hours and Hendrix Medical clinics
Individuals can meet with a provider for symptom evaluation while remaining in their vehicle. In addition to COVID-19 tests, patients can be tested for other illnesses, such as influenza or strep, as part of the drive-thru visit. Appointments can be made by calling the Hendrix Medical Clinic (501-852-1366) or the Conway Regional After Hours Clinic (501-504-2330) or visiting conwayregional.org/urgentcare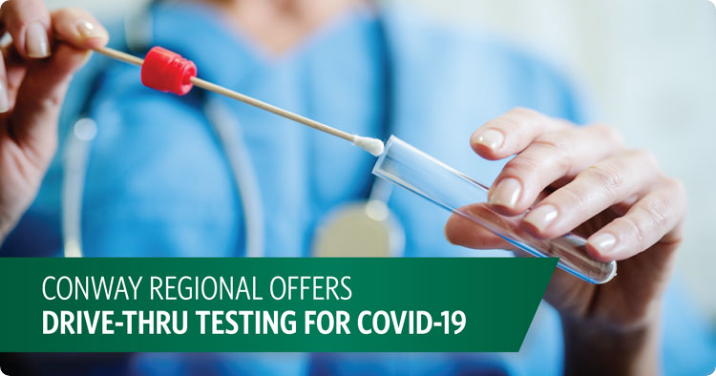 To meet the community's growing need for COVID-19 testing, Conway Regional Health System has opened two drive-thru testing locations. As a part of the drive-thru, patients have access to a provider evaluation as well as testing. Both drive-thru's are open seven days a week.

"Due to the increase in community transmission and number of COVID-19 cases, expanding access to testing services is critical," said Matt Troup, President and CEO. "Our team will continue to provide innovative services, such as drive-thru testing, to meet the ever-changing health care needs of the communities we serve."

Conway Regional After Hours Clinic
437 Denison St.
Conway, AR 72034
501-504-2330



Hours:


Monday – Friday: 1:00 pm – 9:00 pm
Saturday: 9:00 am – 9:00 pm
Sunday: 9:00 am – 6:00 pm

Conway Regional Hendrix Medical Clinic
1700 Altus St., Ste 110
Conway, AR 72032
501-852-1366



Hours:


Monday – Saturday: 8:00 am – 8:00 pm
Sunday: 11:00 am – 6:00 pm

Individuals can meet with a provider for symptom evaluation while remaining in their vehicle. In addition to COVID-19 tests, patients can be tested for other illnesses, such as influenza or strep, as part of the drive-thru visit. Appointments can be made by visiting conwayregional.org/urgentcare or calling the clinic.

Conway Regional's drive-thru testing locations opened to the public on Friday, January 7. Since opening, more than 1,500 individuals have been served between the two locations.